Damian Karwowski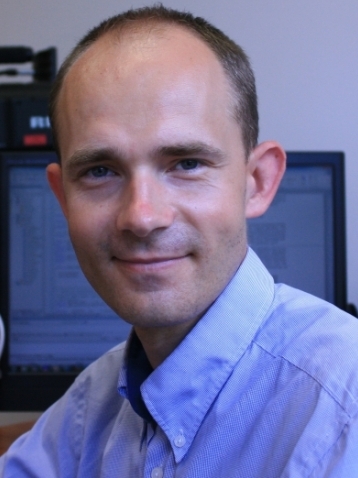 (born 1979) received his M.Sc. and Ph.D. degrees from Poznan University of Technology in 2003 and 2008 respectively. He obtained a grant from Polish State Committee of Scientific Research for the years 2006-2007 for the preparation of his doctoral thesis entitled "Advanced Adaptation Algorithms of Arithmetic Coding in Hybrid Video Compression".

Currently he is an assistant at Poznan University of Technology, a member of the Chair of Multimedia Telecommunications and Microelectronics. He is an author and co-author of several articles on digital video coding in both national and international conferences. He has been taking part in several industry-oriented projects that encompasses:
H.264/AVC video codec software and hardware development;
MPEG-4 AAC HE audio decoder DSP implementation;
H.263 videoconference codec DSP implementation;
MPEG-2 to H.264/AVC video transcoder implementation;
Automatic image quality improvement;
Optimization of video and audio codecs.
His interests are centered on image and audio compression algorithms, entropy coding techniques for digital audio and digital video, and realization of video and audio codecs on PC, DSP and FPGA platforms.
Contact
Room: 118 (Polanka)
Phone: +48 61 665 3844
Mail: dkarwow@multimedia.edu.pl

Research projects
Publications
Book chapters
International journals
International conferences
International conferences - standardization
National journals
National conferences
Patents & Applications
Dissertations
2017
2016
2015
2014
Jakub Stankowski

,

Damian Karwowski

,

Tomasz Grajek

,

Krzysztof Wegner

,

Jakub Siast

,

Krzysztof Klimaszewski

,

Olgierd Stankiewicz

,

Marek Domański

,

Bitrate Distribution of Syntax Elements in the HEVC Encoded Video

,

International Conference on Signals and Electronic Systems, ICSES 2014, Poznań, Poland, 11-13 September 2014, ISBN: 978-1-4799-7009-4, Full textEndNoteCitationDOI

Jakub Stankowski

,

Tomasz Grajek

,

Damian Karwowski

,

Krzysztof Klimaszewski

,

Olgierd Stankiewicz

,

Krzysztof Wegner

,

Marek Domański

,

Analysis of frame partitioning in HEVC

,

Lecture Notes in Computer Science, Proceedings of International Conference on Computer Vision and Graphics ICCVG 2014, Warsaw, Poland, 15-17 September 2014, pp. 602-609, Full textEndNoteCitation
2013
Marek Domański

,

Tomasz Grajek

,

Damian Karwowski

,

Krzysztof Klimaszewski

,

Jacek Konieczny

,

Maciej Kurc

,

Adam Łuczak

,

Robert Ratajczak

,

Jakub Siast

,

Olgierd Stankiewicz

,

Jakub Stankowski

,

Krzysztof Wegner

,

Poznański kodek obrazów trójwymiarowych

,

Przegląd Telekomunikacyjny, No. 2-3, February/March 2013, pp. 81-83, EndNoteCitation

Marek Domański

,

Maciej Bartkowiak

,

Tomasz Grajek

,

Damian Karwowski

,

Sławomir Maćkowiak

,

Badania naukowe w zakresie technik multimedialnych

,

Przegląd Telekomunikacyjny, No. 2-3, February/March 2013, pp. 77-80, EndNoteCitation
2012
2011
Marek Domański

,

Tomasz Grajek

,

Damian Karwowski

,

Krzysztof Klimaszewski

,

Jacek Konieczny

,

Maciej Kurc

,

Adam Łuczak

,

Robert Ratajczak

,

Jakub Siast

,

Olgierd Stankiewicz

,

Jakub Stankowski

,

Krzysztof Wegner

,

Technical Desciption of Poznan University of Technology proposal for Call on 3D Video Coding Technology

,

ISO/IEC JTC1/SC29/WG11, MPEG 2011 / M22697, Geneva, Switzerland, 28 November-02 December 2011, Full textEndNoteCitation

Marek Domański

,

Tomasz Grajek

,

Damian Karwowski

,

Krzysztof Klimaszewski

,

Jacek Konieczny

,

Maciej Kurc

,

Adam Łuczak

,

Robert Ratajczak

,

Jakub Siast

,

Olgierd Stankiewicz

,

Jakub Stankowski

,

Krzysztof Wegner

,

Multiview HEVC – experimental results

,

Joint Collaborative Team on Video Coding (JCT-VC) of ITU-T SG16 WP3 and ISO/IEC JTC1/SC29/WG11, MPEG 2011 / M22147, Geneva, Switzerland, 28 November - 02 December 2011, Full textEndNoteCitation
2010
2009
2008
2007
2006
2005
Tomasz Grajek

,

Damian Karwowski

,

Złożoność obliczeniowa i efektywność kodowania entropijnego w standardzie H.264/AVC

,

Krajowa Konferencja Radiokomunikacji, Radiofonii i Telewizji, KKRRiT 2005, Kraków, Poland, 15-17 czerwca 2005, pp. 377-380, Full textEndNoteCitation
2004