Damian Karwowski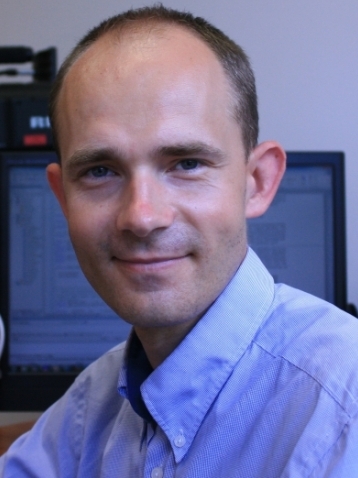 Received his M.Sc. and Ph.D. degrees from Poznan University of Technology in 2003 and 2008 respectively. Currently, he is a research assistant at Chair of Multimedia Telecommunications and Microelectronics at Poznan University of Technology. He is an expert in video compression. He is an author and co-author of more than 50 scientific papers in the fields of video compression and signal processing. He has been taking part in many industry –oriented projects as well as research projects. His interests are centered on video and audio compression algorithms, entropy coding techniques, and realization of video and audio codecs on PC, and DSP platforms.
Contact
Room: 118 (Polanka)
Phone: +48 61 665 3844
Mail: dkarwow@multimedia.edu.pl

Duty hours
Mon 09:15-10:00, Wed 12:00-12:45
Research projects
Publications
Books
Book chapters
International journals
International conferences
International conferences - standardization
National journals
National conferences
Patents & Applications
Dissertations
2023
Damian Karwowski

,

Marek Domański

, Wen-Hsiao Peng, Hsueh-Ming Hang,

Analysis of the Limitations of Further Improvement of the Efficiency of VVC-CABAC

,

IEEE Access, Vol. 11, No. 1, 2023, pp. 16793 - 16800, Full textEndNoteCitationDOI
2022
Robert Furman, Rafał Hadzicki,

Damian Karwowski

,

Krzysztof Klimaszewski

,

A browser based system for remote evaluation of subjective quality of videos

,

30th International Conference in Central Europe on Computer Graphics, Visualization and Computer Vision : WSCG 2022, Pilsen, Czech Republic, 17-20.05.2022, pp. 1-7, Full textEndNoteCitation
2021
2020
Marek Domański

,

Tomasz Grajek

,

Damian Karwowski

,

Krzysztof Klimaszewski

, Basel Salahieh, Bart Sonneveldt, Gwangsoon Lee,

Adrian Dziembowski

, Renaud Dore,

MIV anchors and crosscheck

,

MPEG129/m51560, Brussel, Belgium, January 2020, Full textEndNoteCitation

Damian Karwowski

,

Precise Estimation of Probabilities in CABAC Using the Cauchy Optimization Method

,

IEEE Access, Vol. 8, 2020, pp. 32088 - 32099, Full textEndNoteCitationDOIAbstract


The algorithm of entropy coding that is now widely used in video compression is the Context based Adaptive Binary Arithmetic Coding (CABAC). This paper presents a modified, improved version of CABAC, called the CABAC+. The author's idea for the improvement is to use in CABAC a more accurate estimation of probabilities of data symbols. The basis of the proposal is to use the Cauchy optimization method, in order to minimize the number of bits that are produced by the entropy encoder. The application of the CABAC improvement in the High Efficiency Video Coding (HEVC) technology increased the compression efficiency of entropy coding by 0.6% to 1.2%, depending on the parameters of the method and scenario of experiments. The use of the proposed solution increases the decoding time of a video, but the method virtually does not change the complexity of a video encoder.
2019
Tomasz Grajek

,

Jakub Stankowski

,

Damian Karwowski

,

Krzysztof Klimaszewski

,

Olgierd Stankiewicz

,

Krzysztof Wegner

,

Analysis of video quality losses in the homogeneous HEVC video transcoding

,

IEEE Access, Vol. 7, 12 July 2019, pp. 96764 – 96774, ISSN: 2169-3536, EndNoteCitationDOI
2018
2017
2016
2015
2014
Jakub Stankowski

,

Damian Karwowski

,

Tomasz Grajek

,

Krzysztof Wegner

,

Jakub Siast

,

Krzysztof Klimaszewski

,

Olgierd Stankiewicz

,

Marek Domański

,

Bitrate Distribution of Syntax Elements in the HEVC Encoded Video

,

International Conference on Signals and Electronic Systems, ICSES 2014, Poznań, Poland, 11-13 September 2014, ISBN: 978-1-4799-7009-4, Full textEndNoteCitationDOIAbstract


The paper focuses on two problems: 1) analysis of bitrate contribution of I and B frames in encoded HEVC data stream, and 2) analysis of distribution of HEVC syntax elements in I and B frames. The relationship between sizes of I and B frames located at a different levels in hierarchical coding scheme was experimentally determined, as well as contribution of HEVC syntax elements in encoded streams of I, B0, B1, B2, and B3 frames. The results are presented in the paper. All presented results concern a wide range of QP values in a video encoder.

Jakub Stankowski

,

Tomasz Grajek

,

Damian Karwowski

,

Krzysztof Klimaszewski

,

Olgierd Stankiewicz

,

Krzysztof Wegner

,

Marek Domański

,

Analysis of frame partitioning in HEVC

,

Lecture Notes in Computer Science, Proceedings of International Conference on Computer Vision and Graphics ICCVG 2014, Warsaw, Poland, 15-17 September 2014, pp. 602-609, Full textEndNoteCitationAbstract


The paper presents analysis of frame partitioning in the next generation video coding standard HEVC. Complex study on frequency of the particular coding unit, prediction unit and transform unit sizes selection made by the encoder compliant with HEVC technology is included. General conclusions based on extensive experiments for HD video sequences are presented. Such knowledge may be the first step to the development of more efficient mode selection algorithms.

Damian Karwowski

,

Chapter:

Computational complexity analysis of adaptive arithmetic coding in HEVC video compression standard

,

Book:

Image Processing and Communications Challenges 5

, Editors: Ryszard S. Choraś,

Advances in Intelligent Systems and Computing: Vol. 233, No. 233, Springer, 2014, pp. 133-142, ISBN: 978-3-319-01621-4, Full textEndNoteCitation
2013
Marek Domański

,

Tomasz Grajek

,

Damian Karwowski

,

Krzysztof Klimaszewski

,

Jacek Konieczny

,

Maciej Kurc

,

Adam Łuczak

,

Robert Ratajczak

,

Jakub Siast

,

Olgierd Stankiewicz

,

Jakub Stankowski

,

Krzysztof Wegner

,

Poznański kodek obrazów trójwymiarowych

,

Przegląd Telekomunikacyjny, No. 2-3, February/March 2013, pp. 81-83, EndNoteCitation

Marek Domański

,

Maciej Bartkowiak

,

Tomasz Grajek

,

Damian Karwowski

,

Sławomir Maćkowiak

,

Badania naukowe w zakresie technik multimedialnych

,

Przegląd Telekomunikacyjny, No. 2-3, February/March 2013, pp. 77-80, EndNoteCitation
2012
2011
Marek Domański

,

Tomasz Grajek

,

Damian Karwowski

,

Krzysztof Klimaszewski

,

Jacek Konieczny

,

Maciej Kurc

,

Adam Łuczak

,

Robert Ratajczak

,

Jakub Siast

,

Olgierd Stankiewicz

,

Jakub Stankowski

,

Krzysztof Wegner

,

Technical Desciption of Poznan University of Technology proposal for Call on 3D Video Coding Technology

,

ISO/IEC JTC1/SC29/WG11, MPEG 2011 / M22697, Geneva, Switzerland, 28 November-02 December 2011, Full textEndNoteCitation

Marek Domański

,

Tomasz Grajek

,

Damian Karwowski

,

Krzysztof Klimaszewski

,

Jacek Konieczny

,

Maciej Kurc

,

Adam Łuczak

,

Robert Ratajczak

,

Jakub Siast

,

Olgierd Stankiewicz

,

Jakub Stankowski

,

Krzysztof Wegner

,

Multiview HEVC – experimental results

,

Joint Collaborative Team on Video Coding (JCT-VC) of ITU-T SG16 WP3 and ISO/IEC JTC1/SC29/WG11, MPEG 2011 / M22147, Geneva, Switzerland, 28 November - 02 December 2011, Full textEndNoteCitation
2010
2009
2008
2007
2006
2005
Tomasz Grajek

,

Damian Karwowski

,

Złożoność obliczeniowa i efektywność kodowania entropijnego w standardzie H.264/AVC

,

Krajowa Konferencja Radiokomunikacji, Radiofonii i Telewizji, KKRRiT 2005, Kraków, Poland, 15-17 czerwca 2005, pp. 377-380, Full textEndNoteCitation
2004